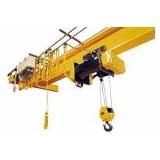 The online overhead crane training certification course is one of our more popular online safety training courses. This overhead crane hoist course is also commonly referred as sling hoist and chain hook. It is mandatory that all personal operating this type of lifting equipment be certified. This type of online testing is recognized in Canada and the United States, and is great for our western clients that need safety training in Winnipeg, Edmonton and Calgary, Alberta, where trainers are a little harder to find in remote areas.

The BRight Group, can use our 30+ years of experience in workplace safety and consulting to get your employees trained and certified in the proper use and operation of an overhead crane. This sling hoist operator training can be administered for a new operator or for a refresher course. The online overhead crane operator course will review the does and don'ts of overhead crane operation, as well as the fines and penalties that could be imposed if an accident were to happen.

Our online programs were specially developed to aid with illiteracy in the workplace and can work with most types of overhead cranes that you have at your facility. Including the gantry crane and jib crane.

Before the testing you will have access to a slideshow that will cover the following:

Online Slideshow Review
Regulations under OSHA 49 through 64 for material handling.

The Operator (Pre-Shift checks and inspection}

Analyzing the load and the lift of it.

Load capacity and the limits

Travelling at safe distance

Handling the load, moving, lifting

Safe Practices.
Basic crane operation and the controls.

Proper use of slings, spreader bars, grabbers, and various attachments

More

Testing Questions & Answers
How long does it take to complete the online overhead crane certification?
If will take 40-60 minutes to complete the online test. Then you will have to complete the hands on evaluation. Please review our "How It Works" page.

Is sling hoist the same thing?

Yes

Can I enroll an employee that's never used an overhead crane / sling hoist?

Yes, you can.
My employees need to be recertified on the overhead crane what is the process?

The onsite and online recertification is the same as a new trainee.

Do you offer onsite overhead crane certification?

Yes, we can visit your location.

Can we book onsite multiple equipment courses?

Yes, you can schedule multiple sessions. That being said, it will also depend on the number of trainees, and if we can complete the training all in one day. Please contact a safety consultant for further information.
What means do you use to make sure my purchase is secure?

We use Pivotal Payments which is a secure credit card processing company.

Safety Tip:
Always make sure your overhead crane / sling hoist is inspected on a regular basis to avoid accidents and injury.