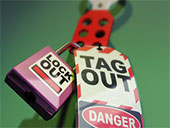 The lockout tagout training certification should take about 30 to 40 minutes to get you instantly certified in controlling hazardous energy. If you pass the online lockout tagout training your score and card will automatically be posted to your account. We have posted below some general information and commonly asked questions for you to review. The slideshow will assist you with all the answers to pass the online test.

Course Outline:
Review legal applications/ramifications - OH&SA related fines & penalties.

Who is required to Lockout? Why?

Review in detail your specific policies

Who requires notification when lockout procedure is to be used?

Define lockout / tagout

Applicable Occupational Health and Safety Act and Regulation

Canadian Standards Association Z142 - 02 Code for Power Press

Responsibilities and liability

Operation: Health, Safety, and Guarding Requirements

Generic lockout procedures vs. machine specific lockout procedures

More

Lockout Tips:
Lockout tagout training the employer is responsible for providing information, instruction and supervision to workers on the proper lockout procedures for each piece of equipment they will be operating.

Pre-plan for the lockout by identifying all hazardous energy sources, switches, etc.

An initial review should be made to determine which switches, valves, or other energy isolating devices apply to the equipment being locked out. More than one energy source (electrical, mechanical, hydraulic, pneumatic, chemical, thermal, and gravitational may be involved.

FAQs