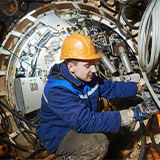 What is Confined Spaces?
Enclosed or partially enclosed space that is not always primarily designed or intended for human occupancy.
Has a restricted entrance or exit by way of location, size or means.
Can represent a risk for the health and safety of the employee / person who enters it, due to one or more of the following factors:
The materials or substances that occupies the space
Mechanical, process and safety hazards present.
The construction and design, location or atmosphere
The type of work activities being carried out in it.
Simulated confined spaces exercise, where each participant will:

Put on appropriate equipment
Simulate testing
Simulate being top person and monitoring
Actually enter a confined space (mock set/up or actual)
Observe to ensure all procedures & standards are complied to.
Length: