The Aerial lift training program is divided into two segments.

Part one - Consists of an in class theoretical course which includes a competency evaluation (true & false test) and review.

Part two - Consists of an on site evaluation which will verify the individuals ability to operate a specific elevated aerial work platform, in a safe manner.

Scissor Lift Review
---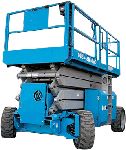 Review related sections of the OHS Act, CSA Standards, and Scaffold Industry Association of Canada specifications.

Operating unsafe equipment or perform unsafe acts.

Outline fines & penalties for improper use of the equipment.

Lifting device & mobile equipment definitions.

Complete review of "fall arrest" required, and recommended.

Pre-shift equipment inspection and work area survey requirements.

Review site specific Hazards, and controls for safe operation of a Aerial Lift.

Fifteen key elements for safe operation of a "Power Elevated Mobile Aerial Work Platform."

Part Two: "Practical Evaluation"

What Is The Purpose Of Elevated Work Platform Practical Evaluation? All Elevated Work Platform operators must successfully complete the theoretical portion of this program prior to being evaluated on site-specific equipment. Each individual will be tested to ensure they can safely and efficiently operate your site-specific equipment. Evaluations will be completed during regular working shifts, wherever possible. On successful completion of both parts one and two of this safety program, the participant will be certified to operate the equipment.

How long does the boom lift training take?
Practical evaluations take approximately one-half (.5) hour. The onsite safety training, or Train The Trainer is delivered and scheduled to your convenience (any shifts). The online Aerial Platform training can be completed in 40-60 minutes. Remember to checkout our other safety training courses. We also offer forklift training, which is one of our popular material handling classes.

Online Training Certification
---
Onsite Training Classes
---
ALL ONSITE SAFETY TRAINING
Request Onsite Quote
Note:
If your company does elevated aerial work such as cleaning windows, cutting trees, painting etc., you will require aerial lift training for your lifting device. In most cases you will also require Fall Arrest training We can combine fall protection training with aerial lift certification at the time of booking.