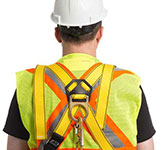 The certified course can be completed onsite or online. It will assist employees in how to properly hookup a fall protection safety harness and when to use it, when to connection to anchor points, the physics involved, as well the responsibilities of the employer, supervisor and the worker.
Working At Heights Outline:

Provide participants a general understanding of the safe and efficient use and care of fall arrest equipment.
Meet your obligations under the Occupational Health and Safety Act & Regulations.
To insure all participants are knowledgeable in when and how to use fall arrest protection.
Give each trainee an opportunity to use a safety harness and adjust it correctly to his or her body type
Why are we here
Discuss duties of employer, supervisor, worker
Specific regulations pertaining to when fall protection is required
Review and discuss falling hazards specific to your situation(s)
The physics of fall arrest
Harness inspection prior to each use
Capacity of fall arrest equipment
Environmental concerns
Proper connection to anchor points
Donning & fitting a harness, each participant will demonstrate they Know how to use the harness and make the appropriate adjustments for the correct fit
Proper storage of harnesses
Quiz to verify the learning
Who Should Attend?
All persons who are required to use fall protection devices where there is or may be a danger to workers falling.
Course Length

(1 1/2) Hours

Online Fall Protection Class