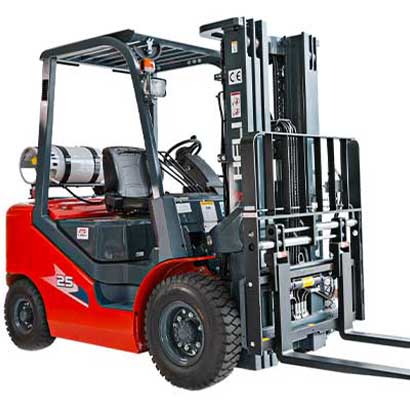 Lift Truck Training (Driving Review)
---
The Evaluation Process
The lift truck training / tow motor evaluation driver safety review will involve the following: All lift truck drivers completing the "driver evaluation" must have successfully completed "concepts of safe & efficient driving" training. Each driver of an industrial lift truck will be tested in the safe and efficient use of your equipment. Lift truck training whenever possible will be done during production

This will allow us to do the trainee's' lift truck training evaluation under the conditions the drivers will be required to operate their industrial lift truck./ reach truck under. Upon successful completion of the lift truck driver operator training program, participants will be "Certified" as Industrial forklift drivers. Other lifting devices we can get your employees certified in includes pallet truck training, aerial lift training and overhead cranes.

Each Driver Will Be Required To Complete A Pre-Shift Inspection.

Forks at correct height
Smooth stopping
Forks level before entering
Load is centered
Load is stable for lifting and transporting
Load is all the way to heel of forks
Proper tilt for type of load
Looks before backing up
Stops at all blind corners
Proceeds with load at safe height
Proceeds at safe speed
How to deal with obstructed view
Observe Lift Truck Driver Operator Stacking The Load

Approach with load down
Looks behind before backing out
Raising load
Smooth operation
Levels load before putting in place
Gently places load
Insures all people are at a safe distance
Aware of rear end swing
PROPANE CYLINDER EXCHANE
Observation (If Applicable)

Review physical characteristics of an on site propane tank
Complete overview of tank condition ( O-ring, collar, dating, soap solution check, etc.)
Will require all participants to change a propane tank on an industrial lift truck, or propane heater (site specific) in a competent manner.
Review evaluation form with participant.

Parking A Tow Motor

Forks flat
Tilt forward
Parking brake on
Types Being Used

Hand Pallet Truck
Walkie low lift truck (powered pallet truck, usually electrically powered)
Rider low lift truck
Towing Tractor
Walkie Stacker
Rider stacker
Reach truck (small forklift, designed for small aisles, usually electrically powered, so-named because the forks can extend to reach the load)
Electric counterbalanced truck
IC Counterbalanced Truck
Sideloader
Telescopic Handler
Walkie Order Picking Truck
Rider Order Picking truck (commonly called an "Order Picker"; like a small forklift, except the operator rides up to the load and transfers it article by article)
Articulated Very Narrow Aisle Counterbalanced trucks (commonly called "Flexi or Bendi Truck")
Guided Very Narrow Aisle truck - 'Man Down' (a type of reach truck designed for aisles less than five feet wide) and 'Man Riser' Combination pickcle Picker/
Stacker truck
Truck Mounted Forklift / Side Loader
Online Training Certification
---
Onsite Training Classes